Costa Rica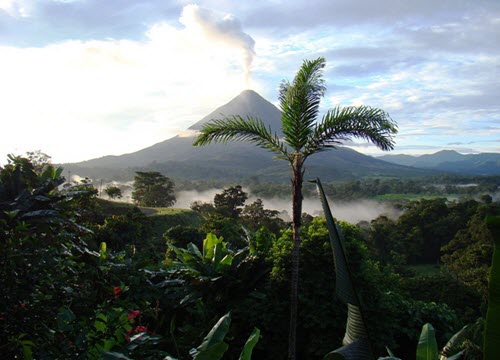 Costa Rica is popular tourist destination in Central American, known for its many nature preserves and for being a stable democracy in a region where that historically hasn't been the norm. Costa Rica has coast both along the Pacific Ocean and the Caribbean Sea, while bordering to Nicaragua in the north and Panama in the south. It has a fascinating geography.
Costa Rica is not a big country; with just above 51,000 square kilometers of landmass it is roughly the same size as Slovakia. It has a population of roughly 5 million people, of which approximately 2 million live in the sprawling San José metropolitan area, although only 350,000 or so are residents of the city proper.
The economy of Costa Rica was once heavily dependent on export crops such as coffee and bananas, but the situation is now more diversified with many Costa Ricans working in sectors such as finance, pharmaceuticals, tourism & hospitality, and corporate services for foreign companies. Free Trade Zones (FTZ) have been established to attract foreign investments.
Costa rica has an emerging binary options industry. The industry is growing quickly targetting the US as well as south and Central America
Costa Rica nature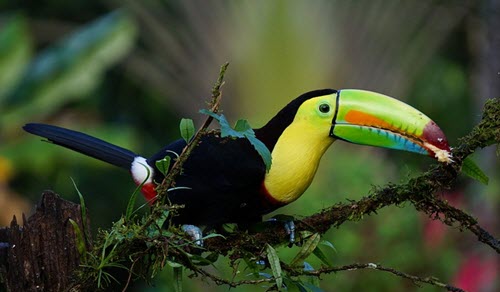 Despite being such as small country, Costa Rica is home to an astonishingly high number of species – both flora and fauna. Almost 25% of Costa Rica's land area consists of national parks or otherwise protected nature, although the degree of protection vary significantly, both legally and de facto. Deforestation is a problem and less than 4% of Costa Rica is now covered in primary forest.
The ecotourism sector in Costa Rica started growing significantly in the 1980s and towards the end of the 20th century Costa Rica had become somewhat of a poster child for tropical nature-centered tourism, with its dry-, rain- and cloud forests, volcanic landscapes, bird-rich wetlands, and thriving coral reefs.
Over 12,000 plant species are known to live in Costa Rica, of which roughly 950 are endemic to the country. There are over 830 species of birds, 440+ species of amphibians & reptiles, 230+ mammal species, and over 180 species of freshwater fish.

Climate
Located between 8 and 12 degrees north of the equator, Costa Rica is a tropical country dominated by warm weather. There are many factors impacting the weather though, such as elevation and topography, and Costa Rica features a wide range of microclimates.
The mean annual temperature is circa 27 °C in the coastal lowlands, but only 20 °C in the areas of Cordillera Central where most of Costa Rica's population lives.
Generally speaking, the rainy season in Costa Rica starts in May and ends in November. Some parts of the country will however be rainy year-round or almost year-round due to local conditions.
One of the wettest parts of the country is the Caribbean slopes of the Cordillera Central, where you can expect over 5,000 mm of precipitation in an average year.
Volcanoes
Costa Rica is home to several volcanoes, both dormant and active ones.
Here are a few examples:
Name
Coordinates

Elevation

Most recent eruption

meters

feet

Arenal
10.463°N

84.703°W

1670
5479
2010
Barva
10.135°N

84.10°W

2906
9534
6050 BC
Cerro Tilarán
10.451°N

84.978°W

634
2080
Pleistocene
Irazú
9.979°N

83.852°W

3432
11,260
1994
Miravalles
10.784°N

85.153°W

2028
6653
1946
Orosí
10.980°N

85.473°W

1659
5443
Circa 3500 years ago
Platanar
10.30°N

84.366°W

2267
7438
Holocene
Poás
10.20°N

84.233°W

2708
8884
April 2017
Rincón de la Vieja
10.830°N

85.324°W

1916
6286
May 23, 2017
Tenorio
10.673°N

85.015°W

1916
6286
Unknown, but not recently
Turrialba
10.025°N

83.767°W

3340
10,958
September 2016
Short facts about Costa Rica
Name
Republic of Costa Rica

República de Costa Rica

Government
A unitary presidential constitutional republic
Total area
51,100 sq km

19,700 sq mi

Of which 0.7% is water.

Demonym
Costa Rican

Informally: Tico (masc.), Tica (fem.)

Official language
Spanish
Recognized regional languages
Mekatelyu

Bribri

Patois

Capital
San José

(Coordinates: 9°56′N 84°5′W)

Largest city
San José
Currency
Costa Rican colón (CRC)
Time zone
CST (UTC -6)
Calling code
+506
Internet TLD
.cr

.co.cr

Gambling
Legal
Prostitution
Legal and widespread. Requires license.
ISO 3166 code
CR
Drives on the
Right
Independence from Spain
Declared 15 September 1821
Independence from the First Mexican Empire
Declared 1 July 1823
Independence from the Federal Republic of Central America
Declared 1838