Braulio Carrillo National Park
The 108,970 acre Braulio Carrillo National Park is located in central Costa Rica, sprawling out over both the Heredia Province and the San José Province. The park is especially famous for its primary forest, which covers more than 90% of the total park area.
Braulio Carrillo National Park is well over 100,000 acres in size and the altitude varies roughly 3,000 meters between the lowest point and the highest point. It thus comes as no surprise that this park is home to several different ecoregions and contains both lowland tropical rainforest to high-altitude cloud forest. Over 600 species of tree has been reported from the park, 530+ species of bird and 135 mammal species.
Up in the mountains, you can find areas that belong to the Talamancan montane forest ecoregion, while a great chunk of the lower elevations belong to the Isthmian-Atlantic moist forest ecoregion. Both these forests are tropical moist broadleaf forests.
The park consists of three main sectors:
Barva
Quebrada Gonzales
Zurquí
Getting there
The Limon Highway bisects the park.
Services
Of the three main ranger stations located within the park, two provide visitors with potable water and sanitary facilities. These two stations are the Barva station and the Quebrada Gonzales station.
Hiking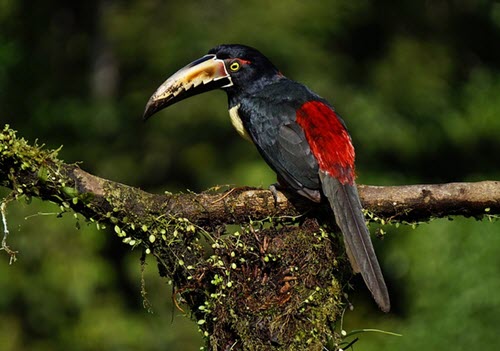 Several hiking trails run through the park, but they are not heavily maintained nor frequently monitored by the rangers. Two fairly easy hikes are Los Botarramas and El Ciebo.
If you are up for a challenge, you can hike the trail that runs from Puesto Barva to the Las Selva Protected Zone. It is not considered an easy hike and finishing can take four days or more.
Volcanoes
Several volcanoes are located within the park, including the stratovolcano complex Barva Volcano. Barva Volcano had its last scientifically confirmed eruption over 8,000 years ago, although there are unconfirmed reports of eruptions from the 1760s and in 1867.
The Barva sector contains three crater lakes: Lago Barva, Lago Danta and Lago Copey.
Rivers
Parts of the watershed of Rio Sarapiquí are located within the park.
Other examples of rivers in the park are Rio Patria, Rio Hondura and Rio Súcio. In Spanish, Rio Súcio means Dirty River, a name derived from the high level of sulfur in the water of this river. The sulfur comes from the volcano Irazú.
Background
In the 1970s, concerns were raised that the new Limon Highway – a major road linking the country's capital in the central mountains with the port city Puerto Limón on the Caribbean side – would lead to undesirable development of the areas through which it ran. To somewhat counteract this, a national park was established in an area known for its primary forest and high biodiversity. It was named after 19th century Costa Rican president Braulio Carrillo, whose administration had built the very first road linking the capital with the Caribbean coast.