Manuel Antonio National Park
Manuel Antonio is one of Costa Rica's most visited national parks, especially since the Poás Volcano National Park near the capital has been closed to visitors since April 2017 due to eruptions. In an average year, roughly 145,000 people visit Manuel Antonio, which is located along the Pacific Coast in the Puntarenas province.
Established in 1972, Manuel Antonio is the smallest of all national parks in Costa Rica, covering less than 2,000 hectares. Still, there is a lot to see and experience in this wonderful landscape, and in 2011 Forbe's magazine included it in its list of the world's 12 most beautiful national parks.
The park contains everything from sandy beaches to forested mountains, and coastal tidal pools offer a great opportunity for snorkeling for those who prefer not to brave the big ocean surf. Over a hundred different mammal species live in the park, including two species of sloth and three species of monkey. This is also a paradise for bird watchers, with 184 species of bird present, including toucans and tanagers. Dolphins are sometimes seen frolicing in the ocean off the beaches, and migrating whales pass through the area on their journeys northwards and southwards.
Short facts
Spanish name
Parque Nacional Manuel Antonio
English name
Manuel Antonio National Park
IUCN category
II
Coordinates
9°22′32″N 84°08′09″W
Nearest city
Quepos
Size
1,983 hectares

7.66 square miles

Established
1972
Hiking trails
Punta Catedral
Waterfall
Lookout
Congos
Beach Manuel Antonio
Beach Espadilla
Gemelas
Puerto Escondido
Manglar
Perezosos
Wildlife
Mammals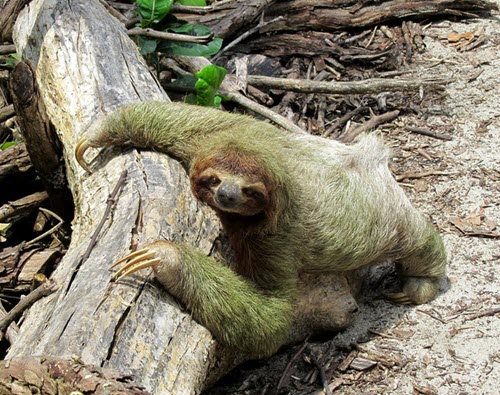 There are over a hundred mammal species present in the park. Here are a few examples:
Brown-throated three-toed sloth
Hoffmann's two-toed sloth
Mantled howler monkey
White-headed capuchin monkey
Central American squirrel monkey
White-nosed coati
Birds
184 bird species have been reported from the park, including potoos, motmots, tanagers, toucans, parakeets, turkey vultures, and hawks.
Reptiles
One example of a fascinating lizard that lives here is the Jesus Christ lizard, named for its ability to run on the water's surface.
The park is also home to reptiles such as the green iguana and the black spiny-tailed iguana, plus many species of snake.
Beach & Sea
There are four beaches within the park:
Playa Manuel Antonio
Playa Espadilla Sur
Playa Teloro
Playita ("The Little Beach")
A natural land bridge formed by sand, known in Spanish as a tombolo, separates Playa Manuel Antonio from Playa Espadilla Sur. Both of these beaches have tidal pools that are popular among snorkelers.
If you decide to go swimming in the ocean, please be advised that the waves can be very forceful and rip currents sometimes occur.
Examples of popular activities in the sea are scuba diving and sea kayaking.